Screen Printing is a very popular method of printing and the use of screen printing is widely used in business. It is employed in a wide variety of global sectors to produce personalized clothes, canvases, works of art, posters, and much more. Screen printing machines are used for printing.
What is screen printing?
Screen printing is the method of using ink, a mesh screen, and a squeegee to transfer a stencil pattern onto a flat surface. The most common surfaces used in screen printing are paper and fabric. If you are looking for a screen printing machine manufacturer I recommend Romas machine technology.
Romas is a professional manufacturer of screen printing machines. They produce high-precision electric vertical screen printing machines. They have three different screen printing machines, each model having a different printing surface and weight. The name of the models is RY-4060, RY-5070, and RY-6090.
Specification of RY-4060
RY-4060 is a device model of a screen printing machine. Its printing area is 500*700mm. It has the shortest printing area of all the models. Its maximum printing area is 400*600mm. Its minimum and maximum frame installations are 200*400mm and 700*1000mm, respectively. The thickness of the printing material is 0-20/0-50mm. It can print 500 to 900 pcs per hour. The dimension of this model is 1500*1200*1250mm. The weight of this machine is 410kg. It has a 220-volt rated voltage.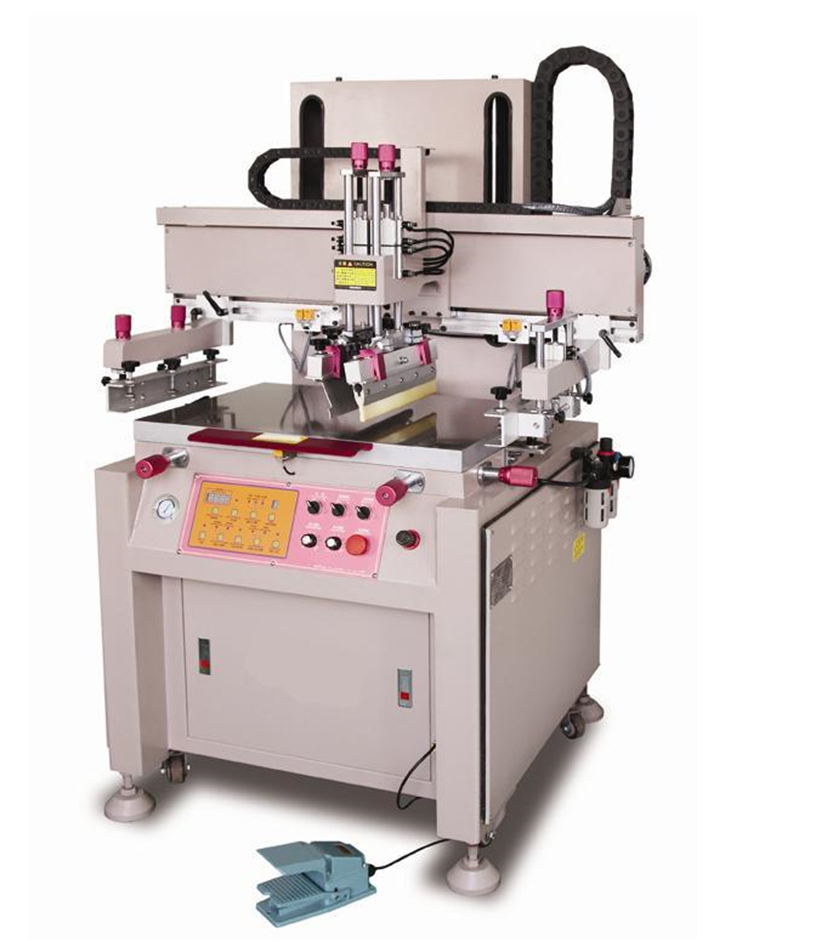 Features of Screen Printing Machine
The printing transmission is driven by a motor and a synchronous belt transmission, which has agile action, uniform speed, and adjustable speed.
A motor drives the lifting and lowering of the net frame, and frequency conversion speed regulation, and the whole machine runs smoothly.
The squeegee and the ink-returning knife have air-pressure adjustment devices.
The printing thickness and size can be adjusted.
The pneumatic off-screen structure can be opened or closed depending on the printing requirements and is flexible and convenient.
The screen arm can be moved to the left and right to make it easier to print on screens and goods of various sizes.
It consists of a safety feature that will reliably secure the grid in the highest position.
The proximity switch, which is simple to use, regulates the left and right strokes.
The electronic control unit is centralized and controlled by the microcomputer controller.
The overall machine's operation is simple, more adaptable, and convenient for maintenance.
This machine works in an environment free of gases and vapors that can corrode metals. The temperature of the surrounding medium should not be higher than -20, and the relative humidity of the air should not be more than 85% (medium temperature is at 20℃). And should be an environment without explosion hazards.
Why choose us?
We(Romas) have more than 15 years of experience and we support OEM services and offer product customization based on client requests. We provide our clients with free technical support and post-purchase assistance. We produced high-quality goods.