Description
Automatic paper receiving machine
1、 Introduction:
The automatic paper receiving machine is a supporting equipment for automatic screen printing. The equipment is composed of a conveying table and an automatic paper receiving table,
The height of the conveying table can be adjusted arbitrarily to connect the flat screen printing drying channel.
The equipment has full-automatic paper receiving functions such as pneumatic bilateral synchronous single sheet paper shooting, paper blowing and paper guide, automatic lowering of paper table and so on.
The equipment has high practical performance, convenient and fast sampling, simple operation and high degree of automation. It is an advanced supporting equipment for flat screen printing drying channel.
2、 Technical parameters:
Maximum paper size: 1020mm × 760mm
Minimum paper size: 560 × 360mm
Conveying speed: 0-60m / min
Receiving height: 700mm
Total power: 1KW
Automatic discharge manipulator of Screen printing machine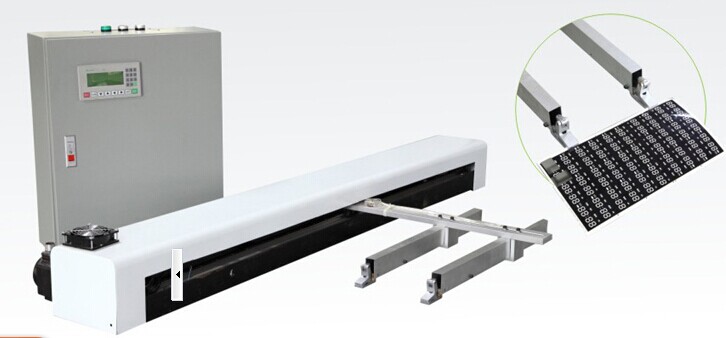 The fully automatic manipulator is mainly used to take materials from the silk screen printing machine and then put them on the drying line. The speed is adjustable and can work continuously for 24 hours, effectively saving one labor. Using the manipulator can save 50000 or 60000 labor costs a year. The company promises one-year warranty and lifelong maintenance! Support special customization. Our company sends manipulator technicians to guide the installation!
Why did you choose a manipulator?
It can save labor and be taken by manipulator.
Improve the printing efficiency, and the fastest speed for the inclined arm silk screen printing machine can reach 1300 pieces / hour (when the silk screen printing workers are skilled enough).
Stable performance, accurate control of reclaiming and discharging, with reclaiming error of ± 1mm and discharging error of ± 1cm.
The operation is simple and the degree of automation is high. During printing, the silk screen printing workers do not need to consider the operation of the manipulator. After printing, the manipulator takes the material automatically.
The safety factor is high. After long-term technical accumulation, all possible problems shall be considered, and the safety of operators, screen printing machine and screen plate shall be considered to the greatest extent. Multiple detection can ensure accuracy, and even the safety of screen printing machine and screen plate can be guaranteed in case of misoperation of workers.
Low failure rate to ensure smooth production. Mechanical aspect: adopt optimized design to ensure the safe operation of the manipulator. Electrical aspect: the special embedded control system is adopted to control all aspects of the manipulator in real time, and the parameters are adjusted through the humanized man-machine exchange interface to optimize its performance in all aspects.
Scope of application:
It is suitable for the reclaiming of most semi-automatic screen printing machines
Relevant parameters:
Manipulator type: recumbent type
Length of complete machine: it can be customized according to the actual situation
Vertical and horizontal movement distance of manipulator: it can be customized according to actual needs
Reclaiming speed: ≤ 1300 / h
Rated power: 500W
Rated voltage: 220V / 50Hz
Motor: Wade
Driver: Wade
Air pressure requirement: 0.4 ~ 0.8MPa
Guide rail: upper Silver
Product features:
This product has safe and reliable performance, stable and complete functions, can greatly improve production efficiency, reduce human and material resources, and has simple and convenient operation and strong applicability.
This product has long service life, low noise, almost no faults, good flexibility and high discharging and reclaiming accuracy