Description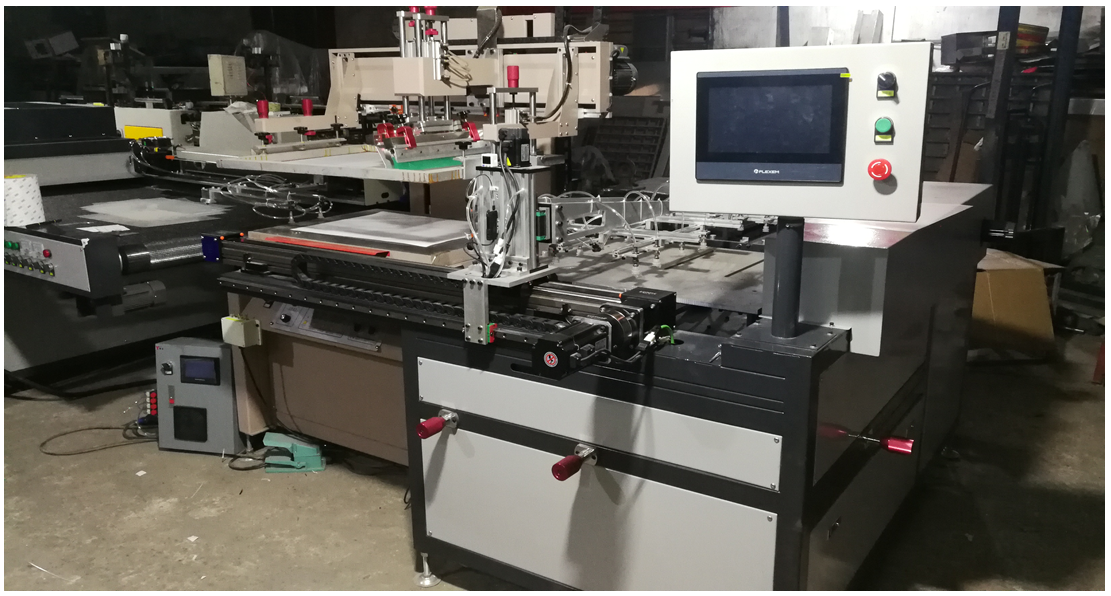 Main performance:
1      It is suitable for oblique arm or vertical semi-automatic screen printing machines of different brand sizes, instead of manual feeding.
2      Simple installation, touch screen + PLC control + Internet of things function, you can master the operation method within one day.
3      The XY axis direction of secondary platen positioning is driven by servo motor + cylinder to ensure accurate positioning and fine adjustment of position.
4      The moving side of the manipulator adopts servo drive, and the walking accuracy is controlled at about 0.02-0.05mm.
5      Each transmission part has photoelectric detection, alarm and shutdown functions. Once multiple sheets are misaligned, the empty sheet fault will stop automatically.
6      The suction cup lifting is also driven by servo to ensure its stability. The suction cup position is adjustable and suitable for different sizes of materials.
7      Equipped with anti-collision sensor to ensure that the mechanical arm does not collide with the screen during operation, which greatly improves the safety performance.
8      Mobile app supports real-time capacity and dynamic viewing of Internet of things.
9      It can be customized according to the direction of feeding and drawing gauge, material size, silk screen printer specification, materials, etc.
Features and scope of application: there are not high requirements for startup personnel. One general worker can also take care of multiple equipment at the same time, reducing labor intensity and saving labor cost. It is especially suitable for printing orders with diversified styles; As long as it is a single sheet with flat surface, such as various films, acrylic, paper, corrugated paper, metal materials, etc.
Main parameters:
| | | | |
| --- | --- | --- | --- |
| Model | RW-4SL700-30 | RW-4SL900-30 | RW-4SL1200-30 |
| Max. material size (mm) | 500*700 | 600*900 | 900*1200 |
| Max. thickness of material (mm) | 2 | 2 | 2 |
| Power supply voltage (KW/V) | 3.2/380 | 3.2/380 | 4.2/380 |
| Max. speed (PCS / h) | 720 | 700 | 600 |
| Air source (KG/ cm3) | 4~6 | 4~6 | 4~6 |
| Max. accuracy (mm) | 0.02 | 0.05 | 0.05 |
| Max. stacking (mm) | 300 | 300 | 300 |
| Number of servo axes | 4 | 4 | 4 |
| Overall dimension (mm) | 1500*1500*1200 | 1600*1800*1300 | 1700*2000*1300 |